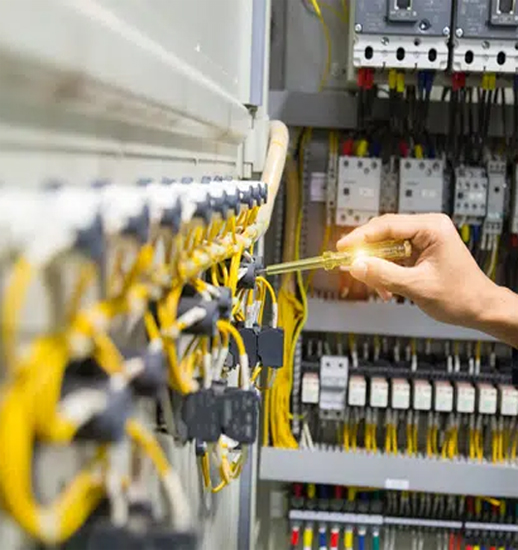 Established in the year 2008, 'shiv electromac' commenced its operations as a manufacturer, supplier and exporter of Electrical Power & Control Panels. We are a CPRI Approved Panel Manufacturer in Ahmedabad, Gujarat. Based at Ahmedabad, our company was soon counted amongst the prominent ones across the globe. With our vast range, we are able to cater to varied industry applications, such as electric utility, automation, and many more. In order to make sure that the requirements of each industry are met to the fullest, we understand the specific needs of our clients and develop the range accordingly.
Well-equipped with latest facilities and skilled manpower, we are able to manufacture the products at par with set industry standards. We also conform to relevant Indian Standards, Electricity Rules and other prevalent applicable standards, so as to keep our range updated as per latest trends. Our vast experience in the domain of project engineering & control circuits designing has further helped us in undertaking various jobs and projects in relation to these applications. We assure our clients that their demands are met with utmost efficiency and that the orders will be delivered to them within the stipulated period. For cent percent client satisfaction, we also provide innovative, reliable and maintainable controlled solutions. Such endeavors have helped us gain acclamation across Indian Subcontinent and East Asia.
'Mr. Sunil Patel' our company has touched the newest heights of success. He is excellent businessmen and known exactly what is required to survive the competition in the global market. With the ethical business policies adopted by them, we have proven to be successful in winning the trust and reliance of our valued clients.
Behind the overwhelming success of our industry lies the industrious efforts of our team of proficient professionals. Over the years, our competent team has put in immense hard work and has worked with dedication in order to understand the clients' requirements and caters to the same with efficiency. Manning different departments, our team members hold expertise in their respective areas of operation and use it to the fullest. Their experience in designing and developing software and electronic control panels has enabled us to offer automation solutions on clients' demands.
In our team, we have :
Engineers
Research and development personnel
Sales and marketing executives
Programmers and technocrats
Quality controllers
We have always believed that quality is the most essential attribute of a product. Thus, we strive hard to maintain the quality of our products at par with international standards and also, in conformation with Indian Standards, Electricity Rules and others. In order to ensure the same, we have set up a quality control unit, wherein the products are subjected to stringent tests and quality checks at all stages. Right from the procurement of components to the production of panels, our quality team keeps a strict vigil on quality. The quality testing procedure does not ends here but continues till the products are safely dispatched to the clients. It is our inclination towards serving the clients with impeccable quality products that today, we have gained immense market credibility.
Following are the parameters that determine the quality of panels :
Voltage
Frequency
Phase
Dimensional accuracy
Set up by us is an extensive manufacturing unit that is equipped with advanced and modern machines and equipment. Assuring improved productivity, our hi-tech manufacturing unit enables us to utilize the available resources to the utmost. Facilitated with all the apt amenities, we are able to streamline the production process and meet the ever-increasing demands of our clients in the best possible manner. Apart from CAD/CAM facilities, our manufacturing unit is installed with lathe machines, EDM machines and wire cut machines.
Using these latest technology machines, we design and develop our range of panels through the following processes:
Fabrication & Painting
Design stage holds immense importance as per the serviceability point of view. Thus, the placement of components is designed prior to the manufacturing process for easy approachability, serviceability and testing. The cubicles designed by us, featuring twists and bends, are rigid, self supported and flawless. Moreover, the cut outs are free in shape and do not carry sharp edges. Attention is paid to the visual aesthetics of panels however, we also make sure that the cubicles/distribution boards/MCC have a dust & vermin proof construction. Once the designing job is done, painting plays a major role. Effective painting enhances the life & quality of cubicles as well as improves their visual appearance. The process of fabrication and painting, involving different stages, is carried out under strict inspection whilst, ensuring impeccable product quality.
Wiring & Assembling
After the completion of painting process, the products are sent for wiring and assembly. Our technical team lays special emphasis on final wiring of the panel. Assembled at par with applicable standards, wiring is done to the minimal.
A range like ours needs to be updated from time to time, so as to match the emerging market trends. The research and development department established by us helps in doing exactly the same. Manned by efficient researchers, this department has enabled us in innovating the technology used for production, improving the quality of products and increasing the production capacity in a cost-effective manner. The analysts conduct extensive research activities in relation to our product range and find out ways that can help us in upgrading and modifying the existing product line. With the assistance of marketing executives, they are able to understand the changing business trends and incorporate the same effectively. Other than these, we also contribute in saving energy by developing panels that use less power for achieving desired results.
Though a new entrant in the industry, we have proven to be successful in establishing a wide client base across Indian Subcontinent and East Asia. With our ethical business practices and transparent dealings, we have made our clients rely upon us and trust us for offering impeccable quality products. Our advanced infrastructure, in combination with the skilled manpower, has helped us in meeting the clients' requirements successfully, without any hassle. Well-tested on defined parameters, our products are assured to feature high operational efficiency and are thus, appreciated by our clients.
In addition to optimal quality products, we also facilitate our clients with the followin :
Customized Products
Timely Delivery Schedules
Wide Distribution Network
Bulk Orders
Cost-Effective Prices
We are a CPRI Approved Panel Manufacturer in Ahmedabad, Gujarat.
IP-65 Test Repor
4000A, 65kA Short Circuit Test Report
We came into being 6 years back with the aim to spread our business across the length and breadth of the world. Understanding that growth holds much more importance than success, we have slowly and steadily moved towards achieving our set goals and expanding our business realm.
Following are the factors that have contributed in our path of success :
Flawless Range
Ethical Business Practices
Wide Distribution Network
Competitive Prices
Modern Infrastructure
Qualified Professionals
Timely Delivery